Oatmeal Pudding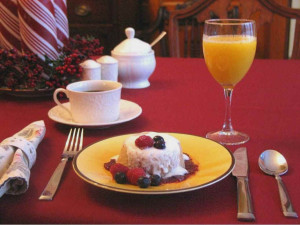 Serves 4
Active Time: 20 min. Total Time: 2 hours 20 min. . Note: can be made ahead and stored in refrigerator until ready to microwave.
1-1/2 cups old fashioned oats
2-1/2 cups water
1/4 tsp salt (optional)
about 1/3 c. your choice of dried fruit (raisins, cherries, cranberries, etc.)
2 cups cooked oatmeal (from above)
4 tsp walnuts, finely chopped
4 Tbsp your favorite jam
1/2 cup Stonyfield Farms Organic French Vanilla Yogurt
Fresh blueberries and strawberries or other fresh fruit
4 fresh mint leaves
Prepare oatmeal according to package directions, adding dried fruit. Set aside to cool slightly. Toast walnuts lightly in pan over MEDIUM heat, set aside.
Spray entire inside of four (3/4 cup size) microwaveable ramekins with cooking spray. Sprinkle walnuts evenly in each.
Spread cooked oatmeal evenly in each container. (Note: It is best to work with oatmeal when it is warm).
Refrigerate at least 2 hours or overnight. Once chilled completely, remove from refrigerator; run a knife around inside edge of container to loosen pudding from sides.
Heat pudding in ramekins in microwave on HIGH 1 to 1-1/2 min.
Spread serving plate with 1 Tbsp fruit spread.
Un-mold pudding onto fruit spread by turning over and tapping bottom of container.
Top pudding with 2 Tbsp of yogurt. Garnish with sliced strawberries and blueberries or fruit of your choice and mint leaf.
https://sleepbarristers.com/wp-content/uploads/2015/11/oatpudding2.jpg
777
1036
Ken McConnell
https://sleepbarristers.com/wp-content/uploads/2016/04/Barrister-header-1-1030x258.png
Ken McConnell
2016-05-10 18:21:40
2016-05-10 18:25:42
Oatmeal Pudding