Local Purveyors
One of the great things about living in the Finger Lakes is it's agriculture. We are blessed with local farms which produce everything from Grapes to Cheese and everything in between. Barrister's Bed & Breakfast's philosophy is to use everything available to us and bring that to the breakfast table. A typical breakfast might include cheese and/or eggs. Our eggs are
delivered fresh to our front door.
Jeff Edwards of Edwards Eggs runs a family business in Genoa, NY. Edwards Eggs has been in business for 65 years.  If you see Jeff at the door say 'Hello'. He is easy to spot, he always has two things with him when he shows up. One thing is the eggs of course and the other is his big smile.
Tom Murray, Muranda Cheese Company Click to Zoom
Muranda Cheese Company is owned and operated by the Murray Family. They produce all natural raw cheeses using only milk from registered Holsteins raised on site in Waterloo, NY. The cheeses are all aged, cut and wrapped at their local tasting room.  The Murray family invites you to sample all varieties of their cheese, many of which make their way onto our breakfast table.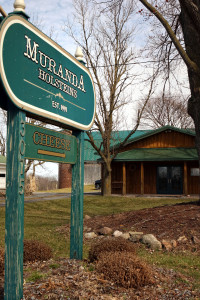 They produce some of the highest quality milk in the nation on their farm and it is this milk that goes into the making of Muranda Cheese.
Americana Vineyards tasting room and gift shop used to be a functioning swing barn in the 1820s, about five miles away from its current location. It was rescued from demolition, meticulously dismantled and rebuilt at its new address on East Covert Road. With a history like that, you can imagine the attention to detail that goes into their wine making!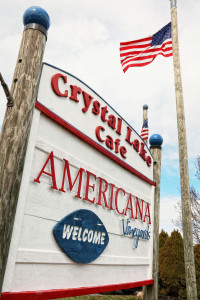 As a founding member of the Cayuga Wine Trail, guests have been enjoying the many varieties Americana has to offer for over twenty-five years. Their award winning wines offer something for every palate.  You can choose from the Chardonnay and Chablis which are dry and flavorful, or try the Crystal Lake wine made from Niagara grapes, or sample our dessert- style red Sweet Rosie. If award winning wines are not for you, please ask Joe about his new line of beer.
Myer Farm Distillers is nestled in the heart of the Finger Lakes Region of New York State, amid the thriving wineries of the Cayuga Wine Trail. As a New York State Farm Distillery, they use International Certification Services certified organic grain from their own Myer Farm—one of the largest and oldest currently operating organic farms in the Northeast United States—to craft distill a range of spirits. At Myer Farm Distillers, they both plant the seed and produce the spirit.  Myer Farm was recently awarded the Business of the Month for June 2016.  When you visit them – give them a big shout out for this award.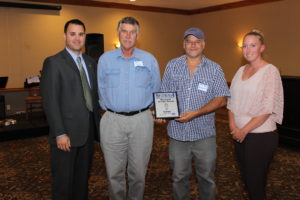 The farm is located on what was originally part of Military Lot No. 13, the town of Ovid being among a group of towns in central New York State that were known after the Revolutionary War as Military Tract Townships. The distillery production and tasting room are, in particular, located on Lot 5 of the original John V. Grove farm, overlooking Cayuga Lake from the west side of State Route 89.
The building was designed to reflect the old distilleries of Scotland. With a pagoda topped stillhouse paying homage to Scottish malt houses, finished in hand-cut and chiseled wall stone, they hope to give you a taste of the attention to detail and craftsmanship that has made them popular.  Be sure to sample their Pineapple Vodka after tasting Barrister's "Vodka soaked Grilled Pineapple spears".
Sauders Country Store
While visiting the Seneca Falls area please visit Sauders, a Unique Country Store.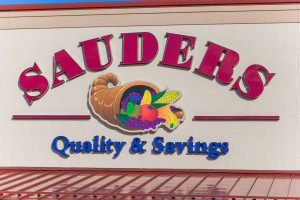 It has fresh and local season produce year-round, a large selection of meats and cheeses at the deli, delicious home baked good, local jellies, jams and canned goods. If you have a sweet tooth don't miss the candy section.
Are the home baker and your looking for a complete line of gourmet spices from A to Z. Try some new ones for the creative side of you! This is the first stop when Ken is looking for breakfast ingredients.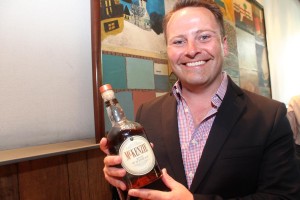 Finger Lakes Distilling is a craft distillery on the East shore of Seneca Lake in Upstate New York, and they make something a little different. "Using locally sourced raw materials, a commitment to traditional methods, and our two copper stills, we produce some seriously good spirits." says Brian McKenzie, President of Finger Lakes Distilling.
The products include rich, aged, sipping whiskies, smooth vodka, unique gins, a range of exceptional liqueurs, and more.
It might seem like an odd choice, putting a distillery in the middle of a wine region. But if you think about it, it makes sense. For one thing, they have immediate access to the crop of one of the best grape-growing regions in the country. They even have our own vineyard in front of the distillery. The Finger Lakes region is also home to quite a few small farms, from which we get our corn, rye, barley, and the other grains and fruits that used to make premium spirits.
Finger Lakes Distilling is a NYS Farm Distillery is a small operation making a handcrafted product. They are able to devote all of their attention to everything they make; no shortcuts here. The flavored vodkas and liqueurs are made in the traditional manner, by soaking real fruits in the spirit. There are no extracts added or synthetic flavoring to speed up the process. The whiskies rest in oak barrels for as long as they need to, until they mature into the rich aged spirit offered with pride.