About Barrister's Bed
&

Breakfast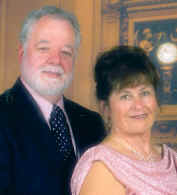 Barrister's Bed & Breakfast has been known for having "all of the comforts of home in a historic setting' for years. Those comforts have included a comfortable bed to come home to and warm friendly service to it's guests. Ken and Diane are committed to making your stay at Barrister's more enjoyable with a commitment to service and comfort.
Ken and Diane are Active members of:
Ken and Diane have been cooking and entertaining their family and friends for many years and now want to share that hospitality with you. Come and visit with Ken and Diane and let them make you feel like family in their home.
Barrister's Bed and Breakfast  is  located in the historic village of  Seneca Falls in Seneca County, New York. From Barristers, it's an easy drive to Finger Lakes wineries along the Cayuga Wine Trail or the Seneca Lake Wine trail, or comfortable walk to historic sites  like the Women's Rights National Historic Park and the Women's Hall of Fame.
Built in 1860 by Attorney Charles Weed and his wife Sarah and later Attorney T.J. Yawger and his wife Harriet Weed Yawger and their daughter Grace inhabited the home.  The home was designed with fine details like quarter-sawn oak paneling, carved oak mantels, graceful stained glass windows and expansive porches. When purchased in 2007, we were only the 4th family to own the property since 1860. Of the previous men in the house, four of the last five were attorneys – hence the name Barrister's.
-Photo by Stephen Beals, Seneca Daily News.